Leadership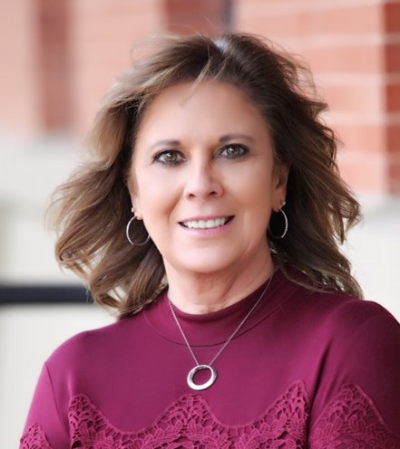 Sharon Earnest – Executive Director – Staff
Growing up, I wanted to be a… Missionary and Police Officer/Criminologist.

If I owned a business, it would be… Super Errands, I enjoy staying busy and running errands, so why not do it for others? Seems like a good fit.

My favorite quote is … "To the world you may be one person but to one person you may be the world", Quote by Bill Wilson

When I'm not at work, I love being a Mammaw, traveling, hunting, reading a good book and playing with MYMonsterPuppy…aka Hadley, she's a giant Standard Poodle.

What I remember most about elementary school is... the lifelong friends that I made and Science class.

If I could have any job for one day, I would want to be… Criminologist! I really enjoy the science of it all.

I love working at JA because… Knowing that I can play a small part of helping development the minds of children, be a positive role model and help them become successful adults is a lifelong reward. Also, knowing that our students can one day positively influence our community by using their foundation in economic skills learned through Junior Achievement!

Plus JA has the best volunteers!

Learn more about Sharon…

Is a Texas native. Born in Sweetwater and lived all over Texas growing up. She moved to Abilene in early of 1983 and pursued a career in engineering with General Dynamics/Lockheed for 13 years. In 1996 went to work for the American Heart Association for 10 years. Sharon grew there and became the Regional Director. In 2005 she joined the CPA Firm – Condley and Company, LLP as Marketing/Business Development Manager. Sharon graduated with Honors and earned three degrees from Wayland Baptist University; a Bachelor's degree in Occupational Education, an Associates in Business Law and an Associates in Occupational Technology. Her passion is to always be kind, it doesn't take an ounce of energy! In January 2020, Sharon began her career with Junior Achievement!!!!

Sharon has two sons – Slade and Kyler, two daughters-in-law – Rachel and Shelby and 5 grandchildren, 3 boys- Kyle, Mason and Aedan and two girls- Ellie and Emmy.

She is an avid hunter and really enjoys traveling and spending time with her dog Hadley.
Jennifer Martinez – Education Manager – Staff
Growing up, I wanted to be a….. Counselor

If I owned a business, it would be… I was the proud owner of 23 Junk Street and recently sold it to pursue other dreams! I will always be a business owner at heart and in the future would love to run an event coordinating business.

My favorite quote is… "God grant me the Serenity to accept the things I cannot change, the Courage to change the things I can, and the Wisdom to know the difference."—The Serenity Prayer

When I'm not at work... my husband and I love taking our kids on camping trips in our RV and exploring outside. We love to fish, hunt, play street football, and we are amazing frisbee throwers!

What I remember most about elementary school is... my best friend and all the adventures we had together.

If I could have any job for one day, I would want to be… Criminal Psychologist! I am intrigued by the human mind and have a passion for guiding those that took the wrong path.

I love working at JA because… the best part of JA is the engagement with the community. I love meeting new people and working closely with them to build a stronger youth. Our volunteers, teachers, and school administrators all share the same passion in teaching kids how to be the best future selves they can be and I love being a part of that.

Learn more about Jennifer…

Jennifer was born and raised in Stephenville, TX, home of the Yellow Jackets. She moved to Abilene in 2005 where she began raising a family and eventually made Abilene her new home. After having her fourth daughter in 2013, she decided to go back to college to pursue a degree in Psychology at HSU. During that time, Jennifer started a small business and continued school as well as running the storefront, 23 Junk Street. The business continued to grow and while she did gain her B.A. of Psychology in 2018, further education was put on hold to continue the business. Since then, she has sold the store and is focusing on spending more time with her family and plans to go back to school one day. Today Jennifer owns a small part-time screen-printing business, works as a freelance event coordinator where she works with local businesses to organize various community events, and serves on event committees when asked. She loves being busy and thrives in organized chaos. She is extremely happy to be a part of Junior Achievement and cannot wait to see what the future brings.

Jennifer is married to Mateo Martinez and has four beautiful daughters. Cameron-17, Taylor-14, Chloi-10, and Zoi-7.
We use cookies to provide you a personalized experience. How we do this is by analyzing user behavior on our site and sharing data with our advertising and analytics partners. You consent to our cookie policy if you continue to use this website.