HESS Volunteer Bridges Language Barriers to Give Student the Full JA Experience
Author: Cassie Benzinger
Work Readiness
Published: Monday, 07 Mar 2016
---
Sharing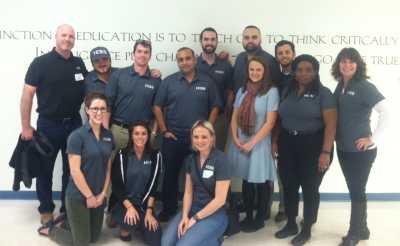 Image caption: HESS employees.
As a sixth grader, it can be easy to feel confused or lost when first introduced to financial concepts such as taxes, interest, budgeting, 401ks, and insurance. After all, these are notions that many adults struggle to fully wrap their minds around. But imagine being introduced to these topics in a language you are just learning to speak. For one Ridgeview Middle School student, this is exactly the predicament in which he found himself.
As part of JA of Greater Washington, HESS Construction employees, Mike Hess and George Kreutz, spent a day volunteering. During a lesson, they observed a student who seemed to be lost. Kreutz noticed that the student was just doodling on his paper and was very unengaged. As it turns out, he was an ESOL (English for Speakers of Other Languages) student who knew virtually no English, so Kreutz knelt down and began translating everything Hess was teaching.
Kreutz, who was an ESOL student himself, knows how frustrating it can be to feel as though you have been left to fend for yourself while the rest of the class goes on. So he made the decision to step up and utilize his bilingual skills to ensure the young boy would not miss out on the Junior Achievement experience because of a language barrier.
At the end of the lesson, the young man that Kreutz was helping was the only child in the class to choose the "Architecture and Construction" category. He wanted to grow up to be like him. This gesture was an indication of the profound impact Kreutz made on the boys perspective in just one school day.
Great work HESS Construction!
To read the full story, visit Junior Achievement of Greater Washington's site.
What is your Junior Achievement alumni story and how are you investing in the next generation of leaders today?
We use cookies to provide you a personalized experience. How we do this is by analyzing user behavior on our site and sharing data with our advertising and analytics partners. You consent to our cookie policy if you continue to use this website.